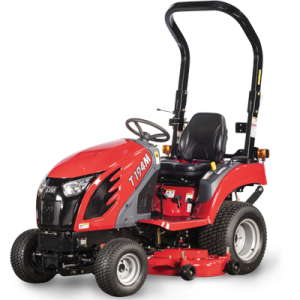 TYM T194
With the agility of a mower and the additional features and practicality of a small tractor, the T194 adds a completely new dimension to the TYM range.
Designed to appeal to customers looking for more commercial alternatives to the ride on lawn mower and those wanting a small multi-purpose product, the T194 packs a real punch when it comes to maintenance work and moving tasks on sports surfaces, large gardens and small estates.
It has a front-end loader and mid-mount mower which extends its capabilities and a spacious operator's platform coupled with low vibration and noise flat deck means it's ideal for customers who spend a lot of time on their tractor.
For those who don't need a larger framed mid-duty model but are after the most amount of power, productivity, versatility and efficiency one compact package can offer, the T194 is the stand out.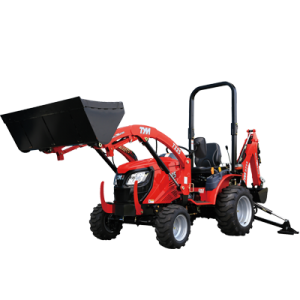 TYM TS25
The TS25 subcompact tractor brings superb value along with outstanding performance. It's a versatile machine, ideal for many applications from private estates to sports turf environments, in particular.
25hp Yanmar diesel engine
Manual or HST transmission
Ergonomic spacious operator station
Power steering
Hydraulic lift capacity 600kg
Optional TX25 front loader available
Optional backhoe available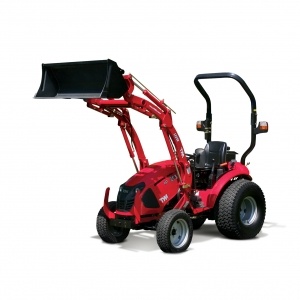 TYM T293
The Compact T293 is powered by a 3 cylinder liquid-cooled diesel engine which delivers plenty of power and maximum fuel efficiency, hydrostatic power steering offers effortless manoeuvrability and dual filter engine elements protects and extends engine life. Plus, an independent PTO switch means the operator can select between the rear or mid PTO separately or simultaneously, allowing for the use of various implements including a mid-mounted mower.
29hp Mitsubishi 3 cylinder engine
3 range HST transmission
Power steering
Independent PTO
Factory fitted loader valve
Hydraulic lift Capacity 700kg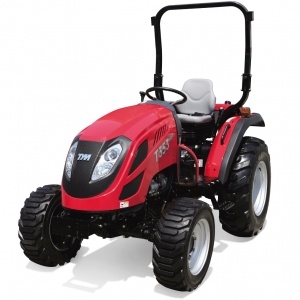 TYM T353
The T353 is easy to use; it has an excellent turning radius and offers maximum traction, too. Its ability to be able to switch from one task to another or from one operator to another means this model is ideal for estate management or equestrian work.
35hp Mitsubishi 4 cylinder engine
Choice of manual and HST transmission
Power steering
Auto PTO function
Factory fitted loader valve
Hydraulic lift capacity 1200kg
One piece bonnet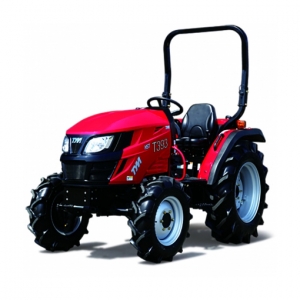 TYM T393
The new T393 tractor from TYM delivers power and performance in a new compact package. For any work you do, a workhorse always helps. With that in mind, we've crafted our newest addition to the compact line to provide the utmost versatility down to the last detail.
39hp Yanmar diesel engine
New front bonnet design
Three range HST or 12x12 speed manual
Rear mounted ROPS
Front mounted ROPS model also available
Factory fitted cabin with air conditioning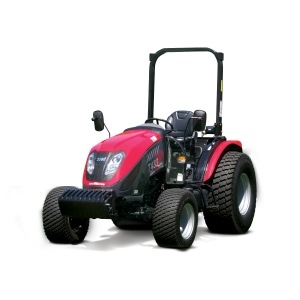 TYM T433
The T433 is a good choice for pulling equipment over a sizeable distance, for example, across a golf course. It's big on power and performance, but won't damage the environment.
43hp Perkins 4 cylinder engine
Choice of manual and HST transmission
Auto PTO
Hydraulic lift capacity 1500kg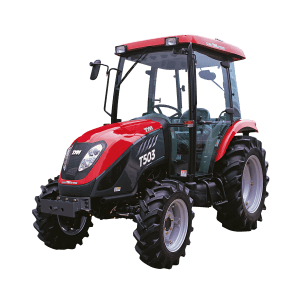 TYM T503
Our best selling model, the T503 is a firm favourite with customers working on big projects, thanks to a long list of features including a spacious cab with great all round visibility, robust design, hydrostatic power steering and labour saving auto PTO system.
50hp Perkins 4 cylinder engine
Choice of manual & HST transmissions
Spacious ergonomically designed cab featuring radio/CD
Air conditioning as standard
Factory fitted loader valve
Hydraulic lift capacity 1500kg
TYM T654
With an all-new 67hp Deutz engine with improved emission standards, the T654 now has more than enough horsepower for a wide range of jobs.
This full-size utility tractor accommodates a wide range of attachments and implements from front end loaders and backhoes, mowers, cutters and rotary tillers. It's a good all-rounder.
Tier 4 regulated Deutz diesel engine
24F/24R mechanical transmission
Digital instrumental panel
One-touch PTO on/off switch
Spacious operator's platform
Optional front loaders and backhoes available
TYM T754
Suitable for a wide range of markets from local authorities, groundscare and landscaping to schools, colleges and small holdings, the heavy-duty T754 has a solid chassis and a spacious, fully air-conditioned cabin, ensuring all-round comfort for operating in all conditions.
74hp Deutz Tier 4 compliant engine
Manual transmission
Intergrated loader joystick and control valve
Rear remote spool valve
Selectable 4WD
Mechanical 3 point hitch
Hydraulic lift capacity 2327kg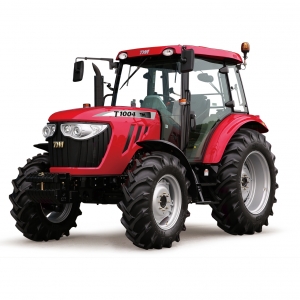 TYM T1004
The T1004 is the largest model in the TYM product line. Featuring a 100hp Doosan engine, it's built to take on the tough stuff. But it's not all work, it also comes with a radio and CD system, deluxe seat and loader joystick controls. It's set up well to help you take on the toughest of jobs, comfortably. This is a tractor for when you need to pull out all the stops with ease.
100hp Doosan Tier 4 complient diesel engine
32 x 32 Speed transmission with power shuttle
Deluxe air conditioned cabin
Independent PTO with auto function
Three speed rear PTO 540/750/1000rpm
3 sets of rear mounted spool valves
External three-point hitch control